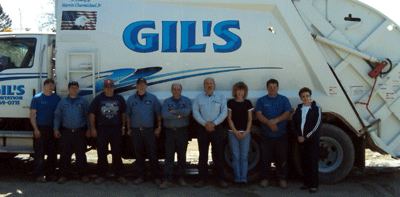 Welcome to Gil's Sanitation!
Gil's Sanitation Inc. has been providing a much-needed service to area homes and businesses for 50 years, picking up what others no longer want or need on a regular basis.
Our company believes that reponsible waste removal and diligent recycling are the only way to a safe and healthy environment, for today and for tomorrow.


Important Information:

Employment Oppertunity:
We are currently seeking a motivated individual to join our team, full time. Individual must carry a valid class B (CDL) license. We offer a full benefits package.

Important Notice about Recycling:
We will no longer be picking up blue recycle bags and taking them to be recycled. Any recycling needs to be taken to your local igloos which will be in place tomorrow. Any blue bags/recycling that is out curbside will not be recycled and will go to the landfill with the trash.
We will still pick up corrugated cardboard and household refuse just as we have in the past.
For more information or concerns regarding recycling please contact Aroostook Waste Solutions by calling 473-7840 or by visiting their website.

** Auto Pay options are available! Don't forget if you pay for the entire year at one time, you get one month free! Starting 12-01-2017 ALL card purchases will have an added processing fee. If you have any questions please feel free to contact us in the office Monday - Friday 7:00 AM- 4:00 PM


** Please remember to have your refuse at curbside by 7:00am to ensure pickup.


Make sure to like us on Facebook where we can keep you up to date on changes and cancellations! https://www.facebook.com/gilssanitation/