Roll Off Containers
10-12 Yard Roll Off
Yard debris cleanup
1 car garage cleanout
Bathroom remodel
Small kitchen remodel
Small Basement Cleanout
10 x 10 Deck Removal
Whole House Carpet Removal
80 sq ft ob broken concrete
4" thick Shingles from a 30 x 40 Single Layer Roof
15 Yard Roll Off
Yard debris cleanup
2 Car Garage Cleanout
Multiple Bathroom Remodel
Large Kitchen Remodel
Large Basement Cleanout
10 x 20 Deck Removal
120 sq ft of broken concrete walk - 4" Thick
Shingles 30 x 60 Single Layer Roof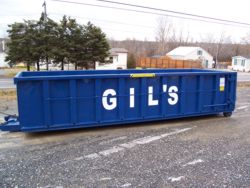 20 Yard Roll Off
Yard debris cleanup
Basement Renovation
Window Replacement for House
Small Shed Demolition
2 Car Garage Construction
Siding from a Small House / Garage
15 x 20 Deck Removal
Total Heating & AC Replacement
Large Whole House Carpet Removal
160 sq ft of broken concrete walk 4" thick
Shingles 40 x 60 Single Layer Roof
30 Yard Roll Off
New Construction
Whole House Renovation or Construction
Commercial Cleanup
Commercial Roof Replacement
Total Re-Landscaping
Large Shed or Small Garage Demolition
Residing Large House
Very Large Deck Removal
40 Yard Roll Off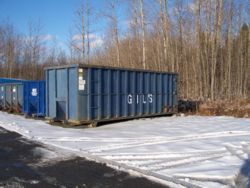 New Construction
Whole House Renovation or Construction
Commercial Cleanup
Commercial Roof Replacement
Total Re-Landscaping
Large Shed or Small Garage Demolition
Residing Large House
Very Large Deck Removal
Notes on Roll Off Containers
Concrete weighs one ton per yard. This material is always better kept separate from other forms of refuse, as clean concrete may be used as fill.
Roofing shingles weigh 225 lbs. per square. Multiply the number of squares by the layers of shingles by their weight and you will know how much your container will weigh.
We accept mixed construction and demolition refuse material, industrial & manufacturing waste, dirt, rock, concrete, stumps, cars, iron, steel, and general household clean up.
YOU CAN NOT PLACE THE FOLLOWING ITEMS INTO THE CONTAINER
ASBESTOS
HAZARDOUS WASTE
FLOURESCENT LIGHT BALLASTS
YARD WASTE
BATTERIES
55-GALLON DRUMS
PAINT CANS CONTAINING PAINT